Improved Dairy and Livestock Management Grows Farmer Income and Food Security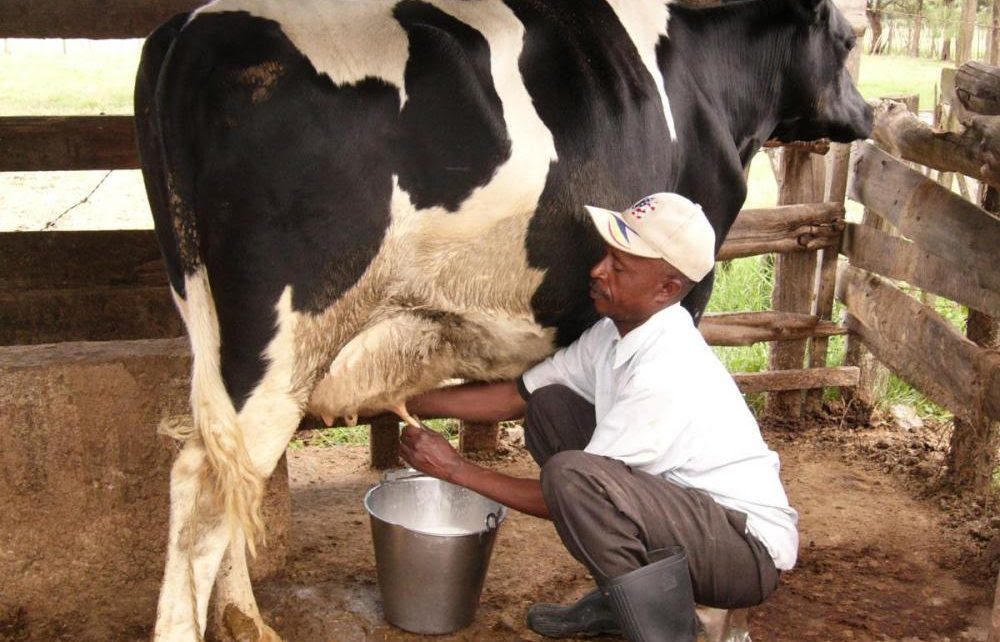 Poverty, Poor Farming Practices Hamper Food and Dairy Production
Food insecurity has increased in many rural areas of East Africa in recent years due to poverty, subsistence farming, and climate change. Recently, dairy farmers throughout Northern Uganda have only been able to produce 2.4 billion liters of milk per year rather than the 10 billion predicted as the country's potential for 2019.[1] In many cases, these dairy farmers are running small operations in rural areas, with little access to value-adding processing and packaging equipment. For most East African countries, at least 40% (and up to 70%) of GDP comes from the agricultural sector, meaning that the impact of increased food insecurity experienced by the dairy industry is vast.[2]
Data from the International Finance Corporation (IFC) suggests that dairy production in Uganda is mostly based in rural regions and run by small-scale farmers. As of August 2019, the IFC estimated that "only 20 percent of Uganda's milk output is processed."[3] This implies that much milk in the region is consumed quickly and sold interpersonally.
Lack of high-grade dairy cattle, a shortage of vaccinations, limited supply of cattle feed, and a high rate of failure in artificial insemination have led to extensive deaths in livestock and have prevented Ugandan farmers from optimizing milk production. Zoonotic diseases such as anthrax, bovine tuberculosis, and other animal-human transmutable illnesses are also causes for concern. Beyond this, the inevitability of ticks and other parasites must be actively mediated to prevent fatal diseases. This points to an increased need for trained veterinarian and veterinary assistants in the region.
Nguvu Dairy Helps Farmers Improve Livestock Health and Boost Milk Yields
\The smallholder dairy farmers who sell milk to Nguvu Dairy similarly need ongoing training to improve the health of their livestock and boost milk yields. Nguvu works with Uganda's Dairy Development Authority to provide basic training focused on milk production hygiene. Further training is being planned to help farmers increase their milk yields and thus their income. For higher impact, this training will be combined with an agricultural component so farmers can begin introducing more nutrient-rich crops into their herd's diet.
Nguvu Dairy is considered a "farmer-allied processor",[4] offering transparent pricing and a predictable daily market for the farmers' safe, quality milk. Nguvu facilitates the delivery of training that has helped farmers improve their yield and care for their herds. In turn, as an intermediary between farmer and consumer, Nguvu's yogurt adds value and extends the life of the fresh dairy product. The yogurt also diversifies the diet of consumers in regional towns, offering nutritious and safe food at an affordable price.
In 2019, Nguvu encouraged the farmers who supply its milk to form the Cwero Dairy Farmers Association. The purpose of the association is to represent the interests of dairy farmers and keepers, to improve the health and productivity of the farmers' herds, and to identify markets for the milk produced. As the interests of farmers are addressed and integrated into the milk supply chain, the livelihoods of the community are expected to improve. The association's vision is to create a community empowered socially and economically by knowledge about the needs and care of cattle, distinguished by integrity in all dealings, and enhanced by quality dairy products brought to the market.
Herbert Mutumba, an official at the Uganda Dairy Development Authority agrees that "[i]f we can address all these problems, we should reach our maximum capacity." If rural areas had greater support in terms of production and distribution, reports suggest that farmers could be making over $300 million more per year from their livestock, increasing productivity by more than 40 percent.[5]
Nguvu values its relationship with local farmers. With continued partnership and alliance between communities, we believe the dairy sector will be able to improve milk quality and help reduce seasonal variability in production so that commercial business operations have the opportunity to grow and thrive.
Thank you for helping create honorable work so farmers can support their families!
---
References
Stay up to date on our impact
Join our email newsletter to hear stories of our work.