Keeping Parents Working Keeps Kids in School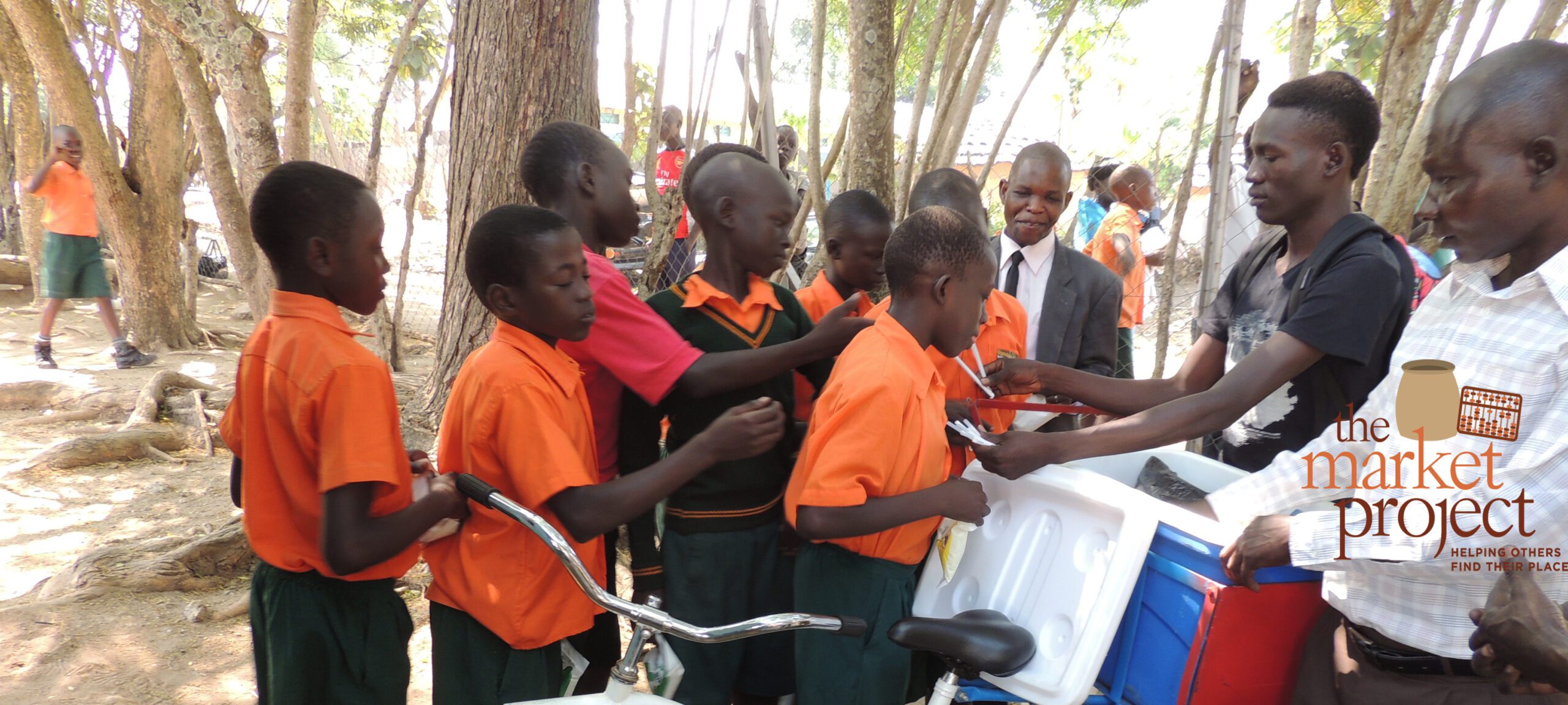 Completing School Cuts Poverty
Education is a critically important tool in the fight to eradicate poverty. According to a recent study by the United Nations Educational Scientific and Cultural Organisation, world poverty could be cut in half if all adults completed secondary education.[1] Lack of access to education is a particularly grave problem in sub-Saharan African countries such as Uganda.
Rural Ugandan Children Missing Out on Education
Education is highly valued among Ugandan families, and yet nationwide only 67% of children enrolled in primary school will complete it.[2] Many are missing out of basic schooling due to their family's limited resources and inability to pay the required school fees.
Some researchers have indicated that at least 15% of children in rural areas never attend primary school altogether because the family simply does not have the money.[3] Although attendance has improved due to Uganda's 1997 universal education initiative, many children are not equipped to perform well while at school. Surveys conducted by the United Nations International Childrens' Education Fund (UNICEF) explain that only 1 in 4 students who begin primary school in Uganda will make it to secondary school.[4]
These numbers worsen as children begin to transition into secondary school. Annual school fees are typically around $50 USD per child at schools in rural settings, while in more urban areas, parents generally expect to pay about $150 USD per child. These fees are unreachable for the 43% of families living on less than $2 a day throughout Uganda.[5] [6]
A related reason that children are missing out on school is their families' access to cash. In the Ugandan economy where 70% of families survive on subsistence farming, cash is a necessary commodity and is still needed to pay for basics such as school fees. This means families need at least one wage earner to bring home the cash, even in rural areas.[7]
A 1997 initiative by the Ugandan government granted Ugandans the right to primary education, regardless of income level. In a land where primary education is deemed to be universal, why do school fees become prohibitive?
Schools Not Preparing Children for the Workforce
Reports also show that students who have completed either technical or vocational courses were not well-equipped to enter the industry which corresponds with their training, meaning that remedial training is often required in order for these young men and women to be gainfully employed in their field of studies.[8] The lack of schooling, the dearth of vocational skills training to help young people become "job-ready" and the scarcity of jobs in the marketplace are all steep obstacles young people must overcome to become self-sufficient.
Out of School Teens Vulnerable to Abuse
Teens who have left school are highly vulnerable as they seek to earn money to support themselves and their family. Children have (sometimes at the suggestion of their families) ventured to regions that are more populated, such as Kampala (the capital of Uganda), to work or beg to make money for themselves and their families. This type of "work" is often exploitative. Children are also subjected to trafficking, forced labor, and commercial sexual exploitation.[9]
Reports by UNICEF advocate for more attention to be given to the schooling environment, including personal safety. These reports indicate that close to 25% of Ugandan children have experienced sexual abuse while at school.[10] Recommendations from educators, observers and advocates call for improving student-teacher relationships and creating a trauma-informed environment.
Making Learning Accessible and Safe in the Pandemic
In the age of COVID-19, addressing all of these challenges in education is now more important than ever. Recently, the World Bank granted over $15 million USD in relief funds specifically for education in Uganda. Among the provisions of this grant, the most important include making learning accessible to children, even during times of school closures, and creating safety measures for reopening schools which include the construction and/or improvement of hand washing facilities, psychological support services, and remedial programs for at-risk girls which include re-enrollment campaigns designed to "reach children from vulnerable populations."[11]
Market Project Businesses Help Close the Education Gap
In addition to greater support from the Ugandan government and international organizations such as the UN and World Bank, market-based businesses such as The Market Project are also helping to close the education gap. Every parent who is employed at a Market Project business in Uganda uses a portion of his or her income to send their children to school.
Businesses such as The Market Project's Nguvu Dairy help wage earners provide a better living for themselves and their families, and many times, this includes being able to pay "school fees" for their children.
By creating jobs that enable a worker to support his or her family, The Market Project is bridging the gap between generations who have not had an ideal schooling experience and the emerging generation. When wage earners in the family have the resources to cover the expenses of school attendance, there is a greater chance that school-aged children can benefit from the educational reforms and national commitments for universal primary education. Job opportunities with companies like Nguvu Dairy can help parents earn the wages necessary to pay for school uniforms and fees, providing families hope and a future.
Help us break the cycle of poverty by offering Moms and Dads good jobs so they can earn the cash needed to keep their children in school!
---
References
 https://en.unesco.org/news/world-poverty-could-be-cut-half-if-all-adults-completed-secondary-education">https://en.unesco.org/news/world-poverty-could-be-cut-half-if-all-adults-completed-secondary-education
 UNICEF. "What We Do: Education: Uganda". United Nations, UNICEF Uganda, 2020. https://www.unicef.org/uganda/what-we-do/education
 Education Policy and Data Center. "Core U.S. Aid." Education Policy and Data Center, 2019.  https://www.epdc.org/sites/default/files/documents/Uganda_coreusaid.pdf
 UNICEF. "What We Do: Education: Uganda". United Nations, UNICEF Uganda, 2020. https://www.unicef.org/uganda/what-we-do/education
 Transforming Uganda. "Ugandan Crisis." Transforming Uganda, 2015. http://transforminguganda.org/the-need#:~:text=Typical%20annual%20primary%20school%20required,things%20are%20just%20more%20expensive.
 Lwanga-Ntale, C. "Inequality in Uganda: Issues for discussion and further research." Development 57, 601–617, 2014. https://doi.org/10.1057/dev.2015.44
 Kakande, Arthur. Are 68% of Ugandans engaged in subsistence farming? Pesacheck, Medium, 2019. https://pesacheck.org/are-68-of-ugandans-engaged-in-subsistence-farming-1b61ceebeb20
 Okou, Jane Egau. Meeting the Challenge of Technical/Vocational Training: The Ugandan Experience. Penn State University, 2002. http://www.personal.psu.edu/users/j/o/joe102/publications/voced.pdf
 Agiresaasi, Apophia. Anti-trafficking Efforts Face Resistance in Uganda's Karamoja Region. Global Press Journal, 2020.  https://globalpressjournal.com/africa/uganda/anti-trafficking-efforts-face-resistance-ugandas-karamoja-region/
 UNICEF. "What We Do: Education: Uganda". United Nations, UNICEF Uganda, 2020. https://www.unicef.org/uganda/what-we-do/education
 Global Partnership for Education. "Uganda." GPE, 2020. https://www.globalpartnership.org/where-we-work/uganda
Stay up to date on our impact
Join our email newsletter to hear stories of our work.