New Covid Wave Surges in Uganda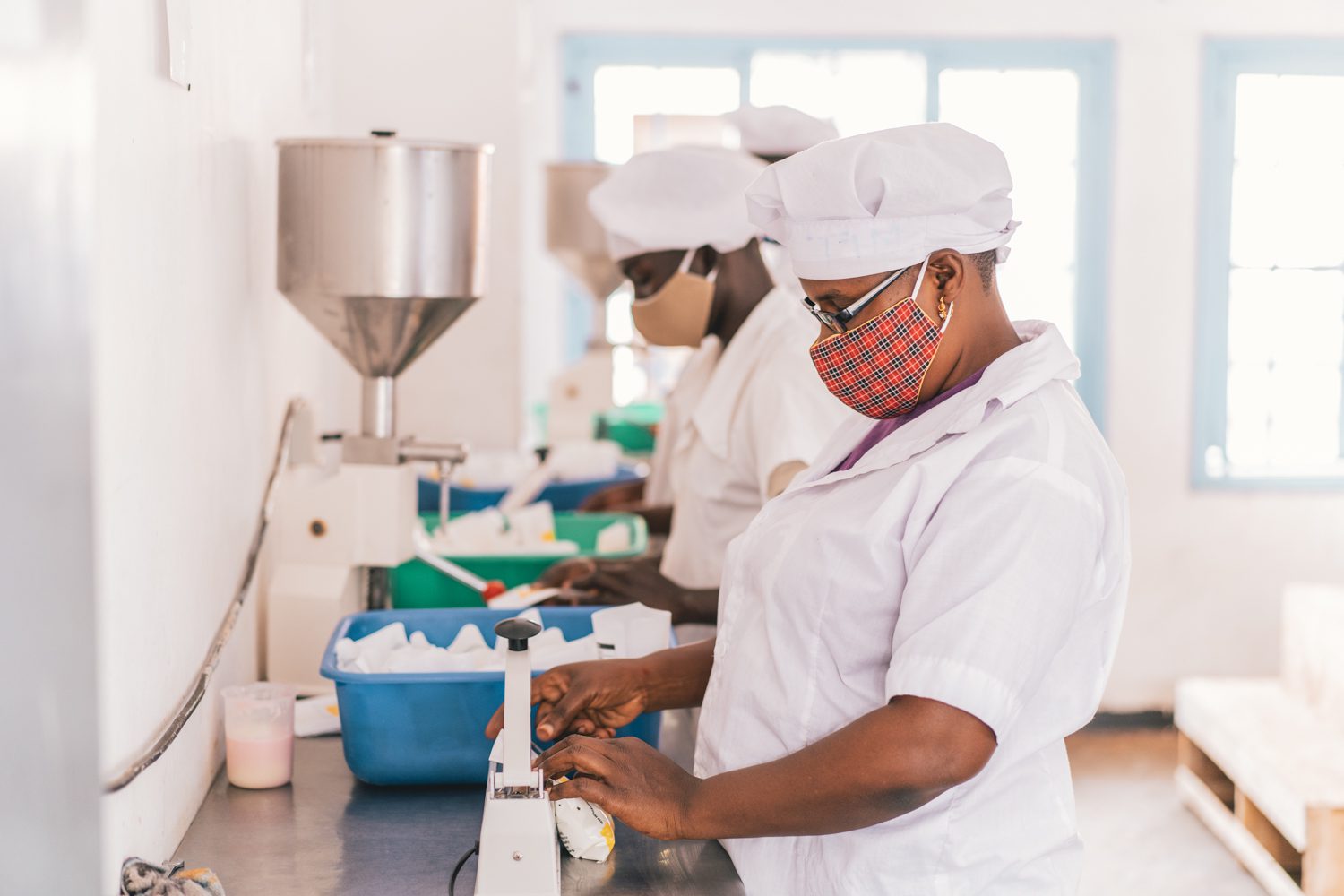 Covid-19 cases are surging again in Uganda. The country is in a severe lockdown to restrict the spread of disease. Uganda's president has deployed the military and shut down all vehicular movement except for essential workers. And less than 2% of the country is vaccinated.
The latest lockdown is a severe blow to The Market Project's Nguvu Dairy, including the 153 workers and the lives of thousands of community members in northern Uganda who rely on the nutritious, locally-produced yogurt.
But thankfully, with special permits, The Market Project's Nguvu Dairy may continue to operate as an essential service business. In the midst of the pandemic, we are carrying out our mission to create thriving businesses that help survivors of trauma, trafficking and exploitation find hope and flourish in healing workplaces. We are  bringing stability, provision, and hope in a time of fear and uncertainty.
The Market Project is working diligently to help Nguvu Dairy safely stay open and care for both its staff and the surrounding community. The efforts include strengthening workers' health and safety, identifying new ways to transport unprocessed milk and packaged yogurt, and supplying personal provisions, as well as offering much needed financial stability and food security to the community.
To care for the health and safety of its staff, Nguvu Dairy is providing its workers with:
Personal Protective Equipment (PPE).
Hand sanitizer.
Regular Covid-19 testing.
A supportive environment with a genuine concern for the well-being of staff and family members.
Risks to personal safety are also on the rise due to the lockdown. One worker was roughed up by authorities and had his money and goods stolen. While Nguvu Dairy has secured all of the necessary permits for its staff to safely move its product and carry out its important mission of providing nutritious food to the community, the lockdown creates additional uncertainty.
Our Impact on Workers: Jobs and Income
Stable employment during a pandemic lockdown is truly prized and life-giving. Employment is already highly valued in Uganda due to the scarcity of job opportunities, and keeping Nguvu Dairy open and functioning means that all of 153 employees can continue to earn an income during this challenging time. One study on the immediate impact of the Covid-19 lockdown in 2020 on economic outcomes in rural Uganda reported that, compared to immediately before the lockdown, household income fell by 60 percent[1].
A Company that Strengthens the Community
The Market Project's Nguvu Dairy not only positively changes workers' lives; it also strengthens and helps the community. We help families: we know that Nguvu staff support an average of five family members with their salaries, so many people will be fed through the continued employment of a Nguvu worker. We support farmers: the dairy farmers who sell milk to Nguvu Dairy have a reliable market, providing them income to support their families and communities.
We also improve food security. Nguvu Dairy's yogurt helps stabilize the nutrition of the community in a time of food scarcity. In a report that assessed food security in Uganda during the pandemic, more than two-thirds of households experienced income shocks and worsened food security, with some respondents reporting skipping meals. Many worried if they would have enough food to eat[2]. At a time when supply chains are disrupted, having locally-available food that is highly nutritious and full of macronutrients is an essential service to the community. 
In order to fully comply with these new Covid-19 regulations, we are facing an additional $5,650 in monthly costs. Please partner with us to provide critical supplies to our frontline workers so they can operate safely and provide nutritious food in a time of scarcity.
---
References
Mahreen Mahmud, Emma Riley, Household response to an extreme shock: Evidence on the immediate impact of the Covid-19 lockdown on economic outcomes and well-being in rural Uganda, World Development, Volume 140,2021, https://www.sciencedirect.com/science/article/pii/S0305750X20304459.
Monica K. Kansiime, Justice A. Tambo, Idah Mugambi, Mary Bundi, Augustine Kara, Charles Owuor, COVID-19 implications on household income and food security in Kenya and Uganda: Findings from a rapid assessment, World Development, Volume 137, 2021, https://www.sciencedirect.com/science/article/pii/S0305750X20303260.
Stay up to date on our impact
Join our email newsletter to hear stories of our work.